Showing posts from tagged with: seo
Posted by Liz Papagni in Marketing Strategy | 0 comments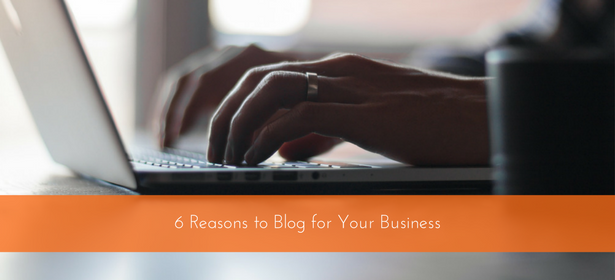 Starting—and maintaining—a business blog is hard. We know. Creating a content calendar, conducting research, and setting aside the time to write and publish can take a huge chunk out of your time. That's why so many companies end up forgoing a blog altogether or only contribute a few times per year. Sure, anything you add to your website can help, but a back-burner blog means you're missing out on one of the most powerful marketing tools available. There are probably dozens, if not hundreds, of reasons to blog for your business, but we think these six are the most important. Let's take a look.
It's Actually Pretty Easy
Sure, the thought of researching and writing can be overwhelming, but when compared to many of the other marketing activities you do for your company every day, it's actually pretty easy to get a blog going. Most website themes include a blogging portal, so you don't even have to have someone redesign your site or add new pages. All you have to do is click "add post," and you're off and running.
Share Your Expert Status
Did you know that
96% of B2B buyers
want content from industry thought leaders? That could be you, building credibility for your products, your services, and your expertise. Think for a second: What makes you trust one company more than another when you're making the decision to buy? Don't you want to know that you're putting your own company in good hands? The same is true for consumers, too. Before they buy your products, they want to be sure they can trust you. Show them with your blog.
Increase Your Qualified Leads
More than
74% of companies
say that regular blogging increased the quantity and the quality of their sales leads. The reason for this is increased traffic, because B2B companies that blog sixteen or more times per month see up to
3.5 times more traffic
than those that blog zero to four times per month. If you're a B2C company, statistics show that eleven or more blogs each month can bring up to four times as many leads as a business that blogs fewer than four times per month. It just makes sense that more traffic would result in more leads, right?
Get and Keep More Customers
Those leads are more likely to turn into customers, too. In fact,
92% of businesses
that blog more than once per week say they've gained at least one customer through their content. So, it's easy to see how more leads could lead to more customers. How can your blog help you keep those customers? Well, many readers will happily offer up comments when they're done reading. This gives you better insight into your idea customers' needs. Learn what you can from their input, tweak your buyer personas, and provide a better service or product for your target audience. That's what keeps them coming back.
Make More Sales
Buyers who read your blog do so because they trust you. That means they'll give preference to any suggestions you might make. That trust leads to purchases that can soothe their pain points. It's true;
61% of buyers
say they've made a purchase based on something they read in the company's blog.
SEO
You might think we'd lead off with this one, especially since SEO is on the lips and fingertips of every speaker and blogger. The truth is, however, that
quality information that inspires trust
in your buyers is much more important to Google than your keywords. Still, you can use your blog to drive traffic according to specific search terms. Just be sure to think through the things your buyers are most likely to search for, create the content that will answer their questions, and the SEO will take care of itself. Have more questions about how a blog for your business could boost your marketing efforts? Want to talk to us about how we can help you get your blog moving? We're here for you, so just
give us a call
.
Posted by Liz Papagni in Marketing Strategy | 0 comments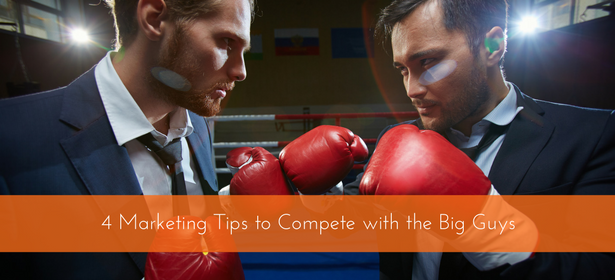 Regardless of how large or small your company may be, the idea of competing with a company like Walmart or Amazon probably has you feeling a little incredulous. It's not possible, is it? Of course it is. You can compete with big brands with the right marketing tactics. Remember, the big guys were all once small brands, too. So, how can you go about beating bigger competitors at their own game? Let's take a look.
Differentiate Yourself
You don't want to be like those big brands, except in the revenue department, right? No, you want your brand to stand out like a beacon in the night. The only way to do that is to determine what makes you different from the crowd and than capitalize on that. That difference
won't be your prices
, either. While "Always low prices" works for Walmart, that's not what will set you apart. Your
mission
, your vision, your product, and your customer service—these are the places where you can overtake your competitors.
Focus on Your Content
Marketing, really, is just
educating your customer
. You want to let them know how your products or services can solve their pain. Your content is how you deliver that education. And remember: content is much more than your blog. Buyers are consuming
more and more videos
, especially the younger demographics. You may find that YouTube, Facebook, and Instagram help you deliver your content better for Generation Z and Millennial audiences. Blogs and articles may resonate better with Generation X and Baby Boomers. You also have to make sure your buyers can find that content. SEO is still as important today as it has always been. While you can distribute your content through outside sources like Facebook, BuzzFeed, YouTube, and Medium, you can't guarantee your target audience will find it. Using keywords and search phrases within your articles and video descriptions is crucial.
Long-tail keyword phrases
may cut down on the number of times you're found in searches, but you do get two big benefits from them: First, the big brands aren't using those phrases, so you have less competition. Second, those long-tail keywords are more likely to funnel customers who are looking for your exact products and services.
Ask and Listen
Are your buyers excited about your brand? Do they love your customer service? The best way to determine this is to simply ask. Post polls on your social media profiles and send out surveys in the mail. Give your buyers the chance to really talk back. And when they do, listen. Remember that customer service occurs across multiple platforms today, too. You can't sit by the phone and expect to hear from all your customers. Instead, monitor your social channels to see what your customers are saying. Reach out and engage through Twitter and Facebook when you see buyers experiencing pain your company can solve.
Deliver an Unforgettable Experience
Now, you've set yourself apart from the crowd. You've determined your target audience. You've asked them what they really, really want. It's time to put these things together into one truly unforgettable experience. When you deliver on your brand promises, your buyers will remember. They'll remember that every time a bigger brand drops the ball, and when it's time to make a purchase again, they'll be right there at your door with their wallets. And if something should go wrong during the buying process, be prepared to make it right, no matter what the cost. As more and more companies are automating the sales and marketing process, buyers are looking for that special something. If you're ready to provide that, then you're well on your way to competing with the big brands. As always, we're here to help if you need it. Be sure to join us in a couple weeks for our latest training course:
6 Steps Top Brands Use to Build Their Marketing Campaigns
.