Posted by Liz Papagni in Brand Strategy | 0 comments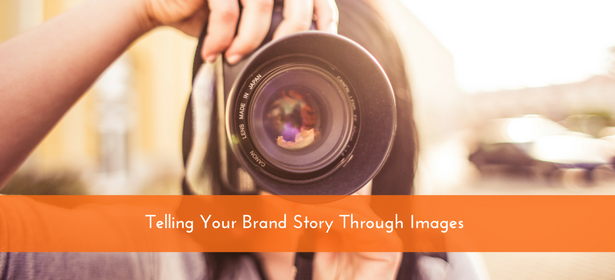 A picture is worth a thousand words. That's how that old saying goes. When it comes to telling your brand story, this old-school catchphrase is right on the money. According to the latest studies, we remember 10% of information we heard three days later, but we remember 65% of information we saw. There is no way to deny that images are an important piece in your marketing strategy. You simply can't tell your brand story without them. So, how can you go about doing that?
Cement Your Style
When creating your brand standards, you should determine the style of images you plan to use. These could be for your web design, blog headers, social media posts, email marketing, and even print pieces. Determining one specific style and sticking to it will help you craft a cohesive brand that's immediately recognizable by your target audience. Some brands may choose to use illustrations rather than photography. Others have a specific photography style in mind (and might even need a photo shoot with a professional to attain the images they need). When you've decided on your style, place that in your brand standards outline so that you never stray. Any creatives you work with in the future will be able to refer back and match your brand at any time. Here's an example of how you might outline your brand style:
Acquire Your Images
Photography and illustrations can become quite costly, especially if you're working with a graphic designer or video producer for proprietary images and video. Even stock sites can get expensive if you plan to use imagery a lot in your marketing. Subscriptions for monthly payments can cut down on these costs when you work with sites like iStockPhoto or Adobe stock images. There are also several free options available, like Pexels or
Burst
. These free options may be limited, but you'll find dozens of different styles to suit your needs. If you enter into free options with your brand standards firmly in mind, you're sure to find photography that fits your brand story.
Crafting Your Message
Here's where things start getting good, right? You're ready to tell the world what your brand is all about, and you'll use these images you've worked so hard to curate as visual aids. What will you say? How will you say it? Perhaps most importantly, where will you say it? With your buyer personas firmly in mind, select the images that match your message. You can create videos, slide shows, infographics, or just use still photos along with your copy or voiceovers to great effect. Keep in mind that studies show readers
spend more time
on images than they do on page text, so images with the relevant information included in text could garner more views. (That's why our blog headers always include the title, and not just a relevant image.) Those images should most certainly be used in your social media marketing efforts, too. Did you know that tweets with images receive up to
150 times more
retweets than those without? And Facebook posts with images see
2.3 times more engagement
than those without. Have you been using imagery to tell your brand story? If not, it's time to get started. As always, our team at Marketing Initiative Worx is here to help you with your branding and marketing efforts, so
give us a call
.
Posted by Liz Papagni in Content Marketing | 0 comments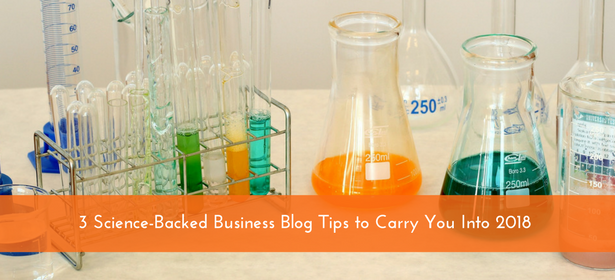 You have a business blog, don't you? With so many benefits available to your business, why wouldn't you? Your company's blog provides a host of opportunities for you, including:
More chances to optimize for search
More informed customers
Wider reach through social channels
Increased traffic to your website
Opportunities for convincing and converting
However, we also know that content on the internet is
at a fever pitch
. We've talked about making sure you're found among all the other noise out there, but watching your numbers shrink can still be discouraging. You may even wonder if a blog for your business is even worth the trouble as you enter the new year. Well, before you wonder yourself out of maintaining your blog, rest assured that you do still need it. The latest numbers show that 84% of business bloggers still see results from their blog. That means, even though there's a lot of content out there, leads are still finding information about the business, driving traffic to the websites, and converting to buyers. That's still a lot of people, right? You can't argue with
84% of bloggers
who say that a business blog is still important. So, why are your numbers going down instead of up? What makes this group of people more successful than the 16% that aren't seeing the results they need? These business blog tips might give you the answers you seek.
More Time = More Results
There was a time when the average time spent in researching and writing a blog was a little over two hours. Now, those who spend
more than three hours
on each blog see better results. When you think about why this may be the case, it's pretty obvious: With so much content available, the blogs that will resonate the most with readers are the ones packed with helpful information. You can't keep sharing the same old thing and hope that people will keep coming back for more. Take some time to determine what your customers need to read in your blogs. What pain points do they feel, and how can you solve those? What questions do they have about your business, your products, your services, and your brand vision?
How can you continue to help them?
You may need more time to dig deeper, and that's okay. More time equals more results.
Longer Is Actually Better
A few years ago, the average blog post was about 500 words. Now, customers are looking for content that can really help them. That means they're more likely to spend time on meatier posts, even if those posts are longer. For that reason, the average blog post—the ones that really get results—are
over 1,000 words
. Of course, that's why people are spending more time writing them, too. Longer blogs take a bigger time investment, too. There's an added benefit to longer blogs: SEO. Google really likes those meatier posts, and will give preference to sites that provide quality information over sites that still post fluffy stuff. More words also give Google more to chew on when it comes to search terms, too.
Boost the Frequency
One thing experts have always agreed on is that more frequent blogging brings bigger, more qualified traffic to your website. That's not going to change in 2018. We've known for a while that companies that post 16 times per month see
3.5 times more traffic
than companies that post four times or less per month. According to the latest statistics,
67% of bloggers
that post more than once per day see even better results! How much traffic could you drive to your website if you posted 25 to 30 times per month? What if you could increase that to 40 or 50 times per month? Sure, the additional time or money investment would need to be made, but what would your return on that investment be? Of course, not every business owner has the time or energy to create and execute a
content strategy
. That's where we come in! If you'd like to increase your blogging efforts in 2018 and need some help,
give us a call
.